Welcome to KOBUNGA Korean Grill!
We're reinventing the wheel when it comes to traditional Korean BBQ. Everyone is used to sitting in front of a grill, understanding which cuts to order, and eating for 2 hours or more at a time. We've simplified the experience. Now, Korean BBQ doesn't have to be an entire event. We bring fast-casual to the Korean BBQ table in Los Angeles, California.
For every $10 dollars you donate, KOBUNGA will provide a delicious Korean barbecue meal to a healthcare hero! That's kindness that tastes as good as it feels!
CHEF DRIVEN, HEALTHY KOREAN FOOD
We pride ourselves in making the most delicious homemade Korean sides and Korean BBQ. All of our side dishes and sauces are vegan and gluten free, so we do not use fish sauce in our products, and only gluten free soy sauce.
Our appetizers and main courses are all created with customization in mind, so that you can make your meal exactly how you want it. Build your bowl or plate with healthy, quality ingredients, and enjoy yourself!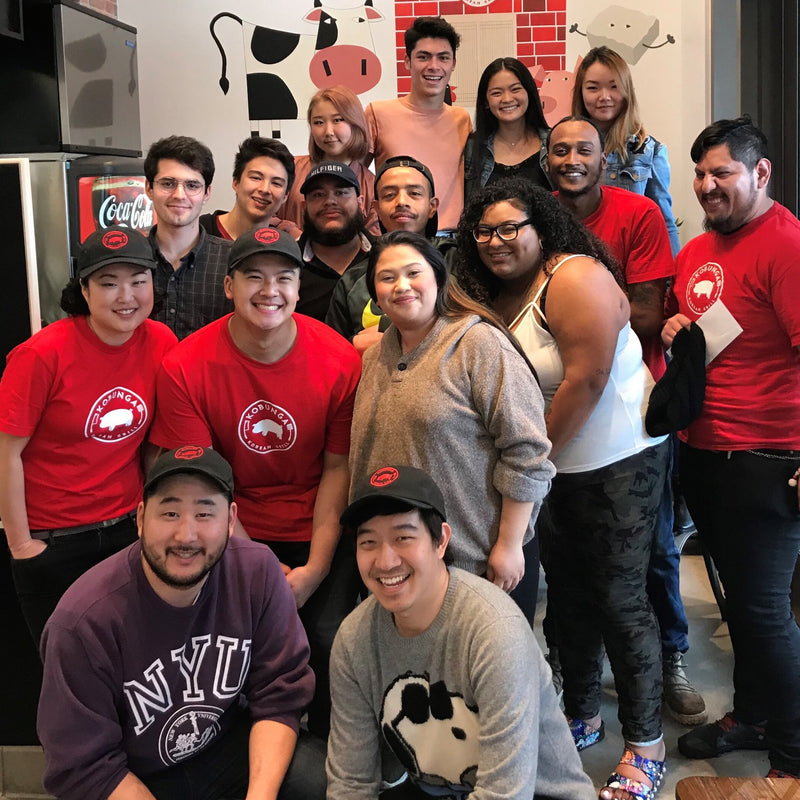 Help the KOBUNGA Team!
KOBUNGA is thankful to all of our fans, friends, and family for their continued support during this global emergency. It's a scary time: pay and job security have vanished, and there's no clear end in sight. We remain open for Take-Out and Delivery but are hurting to see team members without hours.
Looking for a way to support a small business like ours? Purchase a KOBUNGA Gift Card to help us weather this storm and keep our team afloat!
From our family to yours: we wish you health and safety and are here to feed you when you need some delicious comfort.
Location
USC University Village
929 W. Jefferson Boulevard
Los Angeles, CA 90089
2-Hour Validated Parking
at USC Village Garage
Sun - Fri: 11 AM to 9 PM
Sat: 11 AM to 8 PM
*Holidays Subject to Change
Kobunga featured in LA Eater's blog - read the full article here!
June 15, 2018
Kobunga's Korean BBQ will hit the streets of USC.
Look forward to the fast-casual eatery at USC Village.
The University of Southern California has been hard at work building their multi-million dollar project - the USC University Village, and we are so proud to announce that we've officially signed our lease to establish our first brick and mortar restaurant here! We are thrilled to be USC Trojans and we cannot wait to open our doors and provide only the best of Korean BBQ.
September 3, 2017
Thanks to ISA TV we had a chance to film with Hudson Yang from the hit TV Series Fresh Off the Boat! Check out the episode below!
January 19, 2017
SIGN-UP to stay up to date on all things KOBUNGA